Luke Tscharke (pronounced "Shar-key") is a passionate Australian landscape photographer, based in Hobart, Tasmania. His 15-year journey in photography was founded in his profound appreciation for nature and a spirit for adventure, and led him to trade his corporate career as a quality assurance professional and a scientific background in biology for his true calling. This transition matched his meticulous attention to detail and high standards with a desire to represent the wonder of the natural world through his lens, creating uncomplicated yet iconic compositions that form an intimate connection between the viewer and the landscapes he photographs.
Originally from the Barossa Valley, where his family history spans over seven generations, Luke's love for Tasmania's wild landscapes propelled him to swap city living in Melbourne and Sydney for the adventure of a lifetime. Trading his lab coat for a camera, he immersed himself in Tasmania's breathtaking wilderness, persistently refining his craft with advanced Sony camera equipment and the latest processing software.
His distinctive portfolio showcases a thoughtful blend of nature, infra-red, aerial, and nightscape photography. Luke's adventurous spirit guides him on bushwalks with his infra-red camera, capturing landscapes in transient light, and navigating the challenges of unpredictable weather to present rarely-seen nocturnal landscapes. A true night sky enthusiast, Luke is enthralled by the ephemeral beauty of Aurora Australis, devoting countless hours to chasing clear night skies to photograph these southern lights.
Recognised with the 2015 International Landscape Photographer of the Year and the 2018 David Malin Astrophotography Award, Luke's expertise also extends to aerial cinematography as a certified drone operator from the Civil Aviation Safety Authority (CASA). His contributions to the 2022 film "Franklin" demonstrate his aptitude in this field.
In addition to his individual accomplishments, Luke's distinctive photographic style has also garnered attention from notable organisations, brands and charities. He's proud to be a Sony Digital Imaging Advocate, a role that not only aligns with his passion for innovative technology but also allows him to represent a brand that played a significant role in shaping his personal photography journey and the industry more broadly. His reputation and expertise in the field have led him to become a regular contributor to Australian Geographic, where his enchanting images of Australia's diverse landscapes not only contribute to the magazine's mission of inspiring discovery and understanding of the country, but also resulted in two of his photos gracing the magazine's covers.
Luke's ultimate aim is to bring moments of beauty into people's lives through his images, softly reminding us of our fleeting presence within these unspoiled landscapes, and reinforcing that, despite life's turbulence, the world remains a place of incredible beauty. By sharing these awe-inspiring scenes, he hopes to encourage viewers to adopt a sense of stewardship, protecting and cherishing the extraordinary world we inhabit.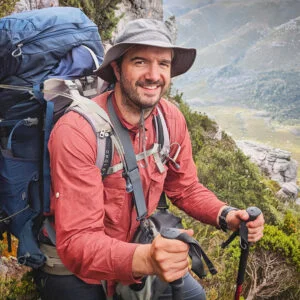 Sony Australia: I am a Digital Imaging Advocate for Sony Australia. In 2004, when I was first getting into digital photography, I purchased a 5-megapixel Sony DSC-V1. Down the track in 2015 when I began taking photography very seriously, I began shooting on a Sony A7R, and since then have also shot with the Sony cameras A7RII, A7S, A7III, A7RIII, A7RIV and now on an A7RV and A7IV. I still have that original A7R camera and have converted it for infra-red photography at 850nm.
I absolutely love photographing with Sony equipment. The smaller size and lower weight make them ideal for hiking and outdoor work without compromising on image quality. I am thrilled to partner with Sony Australia and offer workshops and events via the Sony Scene Website. 
2023 David Malin Astrophotography Awards – Runner Up Nightscapes
2023 Australian Geographic Nature Photographer of the Year – Winner of Monochrome Categoy
2023 Australian Photographic Prize – Semi-Finalist in Astrophotography
2022 Australian Geographic Nature Photographer of the Year – Finalist in Astrophotography
2019 David Malin Astrophotography Awards – Winner Photo Editor's Choice
2019 Sony Alpha Photography Awards – Judge (Astrophotography)
2018 David Malin Astrophotography Awards – Overall Winner
2018 David Malin Astrophotography Awards – Winner Nightscapes
2018 Australian Geographic Nature Photographer of the Year – Finalist in Landscapes
2017 Insight Astronomy Photographer of the Year – Finalist in Nightscapes
2017 David Malin Astrophotography Awards – Winner Photo Editor's Choice
2017 Australian Geographic Nature Photographer of the Year – Judge
2016 Australian Institute of Professional Photography (AIPP) NSW Emerging Photographer of the Year
2016 Australian Institute of Professional Photography (AIPP) APPA – 1x Silver Distinction, 2x Silver
2016 Black and White Spider Awards – Professional Nature – Second Place
2016 Capture Magazine Australia's Top Emerging Photographer 2016 – Landscape Category winner
2016 Australian Geographic Nature Photographer of the Year – 3 x finalist images in Landscape and Monochrome
2016 Tasmanian Nature and Landscape Photography Award – Winner and Third place in 'Wild Landscapes' category
2015 International Landscape Photographer of the Year – Winner of Photograph of the Year
2015 Monochrome Awards – Monochrome Photographer of the Year – Grand Prize Winner
2015 Monochrome Awards – Landscape, Professional – First Place
2015 International Photographer of the Year – Winner of Fine Art: Landscapes category
2015 Better Photography Awards – Classic Landscapes – Gold and category Winner
2015 ANZANG Nature Photographer of the Year – Landscape category – finalist
2015 Focus Photography Awards – Photographer of the Year – First Place
2015 Focus Photography Awards – Image of the Year – Second Place
2015 Focus Photography Awards – First Place in Landscape and Creative categories
2015 Epson International Pano Awards – Open nature – Gold (13th place)
2015 International Photography Awards – Nature, Landscapes – Honourable Mention
2014 Epson International Pano Awards – Amateur Built Environment – 13th and 38th
2014 Epson International Pano Awards – Amateur Nature – Bronze
2014 Focus Awards – Cityscape category – winner
2014 Focus Awards – Black and White category – winner and runner up
2014 Focus Awards – Photographer of the Year – 4th place
2013 Fujifilm X Landscape Photographer of the Year 2013 – Finalist and 5th position
2013 Photoblog Awards – Best Landscape Photography – winner
2013 International Loupe Awards – Open Landscape – 20th overall
2013 International Loupe Awards – Amateur Landscape – 11th overall
2013 Focus Awards – Photographer of the Year – runner up
2013 Focus Awards – Cityscape category – winner
Australian Geographic Magazine
Australian Geographic: Jan-Feb 2018 Western Arthurs Feature Story
Australian Geographic 2018 Landscape Calendar
Australian Geographic: July-Aug 2016 – Photographing Aurora Australis tips box
Australian Geographic: Mar-Apr 2016 – Big Picture Feature
Australian Geographic: Sept-Oct 2015 – Photographing the Milky Way tips box
Australian Geographic: July-Aug 2015 – ANZANG Shortlisted image
Australian Geographic Adventures: Special Edition June 2015 – cover image
Australian Geographic: May-June 2015 – cover image
Australia Post
Great Walks of Australia Commemorative Medallion – inner cover
Australian Photography Magazine
Australian Photography Magazine December 2017 – Magazine Cover
Australian Photography Magazine April 2017 – Astrophotography feature
Australian Photography Magazine December 2016 – Seascapes feature
Australian Photography Magazine October 2016 – Bucket-list article
Australian Photography Magazine September 2016 – Infrared article
Australian Photography Magazine June 2016 – cover image
Better Photography Magazine
Better Photography Magazine Issue 82 – cover image
Bureau of Meteorology
Cover of 2018 Weather Calendar
Capture Magazine
Capture Magazine: May-June 2016 – Australia's Top Emerging Photographers 2016 feature
Landscope Magazine (Conservation and Land Management Western Australia)
Landscope 2016 Calendar
Landscope Volume 30 Number 2 – cover image
Pittwater Life Magazine
Pittwater Life May 2016 – cover image
Practical Photography Magazine (UK)
Practical Photography Magazine Sepetember 2016 – "Developing your landscape style" article
REEF Magazine (Hamilton Island Magazine)
Reef Magazine Issue 14 – cover image
Australian Geographic Nature Photographer of the Year
2018 – South Australian Museum: 1 exhibited image
2018 – Australian Museum (Sydney): 1 exhibited image
2016 – South Australian Museum: 3 exhibited images
2016 – Australian Museum (Sydney): 3 exhibited images
2015 – South Australian Museum: 1 exhibited image
Head on Photo Festival (Sydney)
2016 – AIPP Award Winners Exhibition
2015 – AddOn Photographic Exhibition