I recently had the opportunity to travel to South Africa, where I visited Cape Town, Johannesburg, and a wildlife game reserve named Madikwe Game Reserve. It was a lot to fit in just 7 full days of travel. Going into my trip to South Africa I had some preconceived ideas of what to expect during my time there. Now that I'm back home it's pretty fair to say that it was not at all like I expected, and I returned with some precious memories that will last a lifetime. So what was it about the place that I found so amazing?
1. The incredible Cape Town beaches
I live in Sydney and you could say that I have been very spoilt by beaches. We have beach after beach of golden sands, some of which are world famous. Imagine my surprise upon arriving in Cape Town when I saw a city situated on beautiful sandy beaches that could rival the best in Sydney! My photographer brain suddenly went overtime thinking of the possibilities. The Cape Town beaches have beautiful white sand and are set amongst smooth worn granite boulders, very reminiscent of Binalong Bay in Tasmania or the Esperance region of Western Australia. They were quite a sight to behold and were a joy to photograph. I will have to return sometime soon to explore them in greater depth!
[mpc_grid_images preset="default" images="3887,3873,3877″ cols="3″ gap="10″ image_opacity="100″ effect="none" image_hover_opacity="100″ overlay_padding_divider="true"]
2. The ominous Cape Town mountains
The city of Cape Town seemingly has mountain views at every turn. The stand out feature is certainly Table Mountain, with its ominous presence looming over the city. The mountain was covered in a cloud a lot of the time, and locals refer to this aptly as the 'tablecloth', as it appears to dress the surface of the flat topped mountain just like a tablecloth. The cloud also drooped down over the side of the mountain just like a cloth would, and its perpetual wave-like motion was mesmerising to watch. We went up to the summit of Table Mountain for sunset and the views of this cloud were spectacular, with the evening light turning the cloud into a brilliant orange colour minutes before the sun dipped below the horizon. West of Cape Town there were more mountain ranges which looked epic emerging from the horizon at sunrise from Lions Head peak.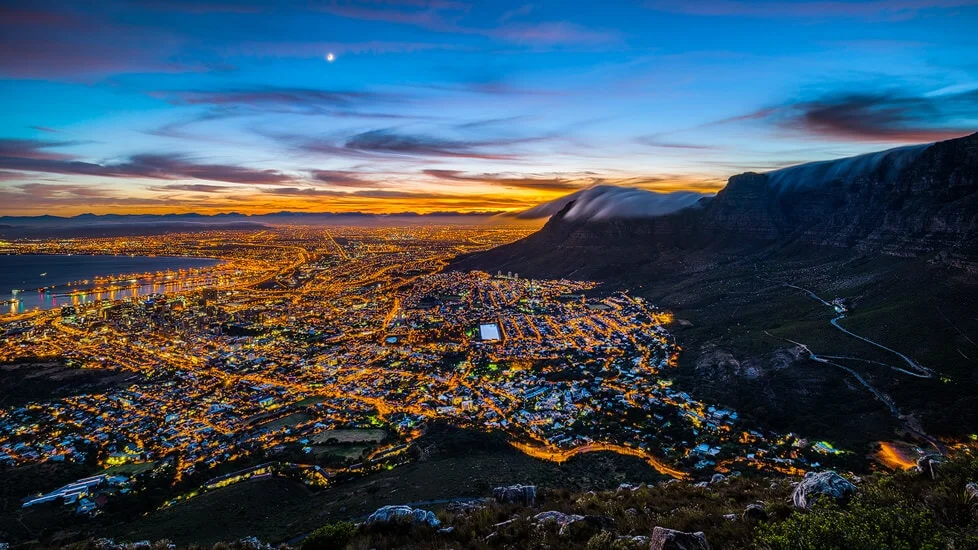 3. The spectacular view from Lions Head Peak
Ok so a 3am wakeup alarm is not everyone's cup of tea, and I'll have to admit that it was pretty hard for my jet-lagged body to roll out of bed. We had decided to climb the summit of Lions Head Peak for sunrise, and with the sunrise time being quite early in the morning, we had to begin our 1 hour ascent even earlier. Climbing a mountain in the dark is quite an unusual experience. You know that you are gaining elevation but when you look out around you can't quite make sense of just how far you are climbing. All you seem to do is put one foot after the other, the absence of the view means you can focus on the climb. Once we reached the summit and could look out upon the scene before us, it was clear that the effort had been worth it. The sky began to brighten and the city of Cape Town was revealed. The view from the summit of Lions Head Peak was certainly one of the most amazing views I have ever witnessed and I hope to see this again in my lifetime.
[mpc_grid_images preset="default" images="3883,3884,3886″ cols="3″ gap="10″ image_opacity="100″ effect="none" image_hover_opacity="100″]
 4. The fascinating history and culture of Johannesburg
We spent two nights in Johannesburg and I found it to be a fascinating place. Visiting places like Soweto on the outskirts of Jo'burg you get a real insight into the challenging past this city has had. The Orlando power station towers have been repainted with inspiring murals and transformed into a bungee jump zone. It was also a great place for us to have a traditional South African lunch. Back in the CBD we found some excellent street art in the city of some Zebras which we used as a photographic backdrop. We were also fortunate to have access to some rooftops of local hotels to be able to photograph sunrise and sunset. We watched the sun go down over the city and the lights illuminating the Nelson Mandela Bridge turn on, as the city lights gradually brightened into a brilliant cityscape.
[mpc_grid_images images="3876,3875,3874″ cols="3″ gap="10″ image_opacity="100″ effect="none" image_hover_opacity="100″]
5. The Biodiversity of Madikwe Game Reserve
Madikwe Game Reserve is situated about 4.5 hours drive north west of Johannesburg near the Botswana border. We were fortunate enough to stay two nights within the park at Madikwe Safari Lodge, which had incredible rooms featuring a private outdoor balcony with plunge pool and a view out across the reserve. We ended up taking four game drives on safari while we were there and each time we went out we saw something different. It was truly amazing being able to see all of the animals I grew up watching in nature documentaries in many cases just metres from our vehicle. Perhaps the most humbling times were when we stopped close to the lions. Being in their powerful presence just gave me goosebumps. Throughout our stay in the reserve we saw giraffes, elephants, lions, impala, wildebeest, zebras, hornbills, mongoose, baboons, hyenas, white rhinoceros and even the critically endangered black rhinoceros. Going on safari was just as amazing as I could have expected.
6. Seeing Rhinoceros in the wild
All right so I had to put this in here because I had kind of convinced myself that it wouldn't happen. On our last game drive I had kind of accepted the fact that we wouldn't see a rhino during our time at Madikwe. We left early that morning before sunrise to photograph the reserve, and any animals we encountered, in the early morning light. Our guide must have had a tip-off as he drove us into a seemingly random patch of scrub. As we rounded a corner I locked my eyes on the mother and calf white rhinoceros. My jaw dropped. We were just metres from a creature I had wanted to see in the wild my whole life. It was a truly memorable experience to be in the presence of these animals and to photograph them for half an hour or so.
So there is my 6 amazing things from South Africa. It is an incredible country and I really hope it is not too long before I have a chance to go back. Have you travelled there and have an experience you'd like to share, or would like to know more about my time in South Africa? Feel free to leave a comment below. Thanks for reading!
If you want to learn more about South Africa, check out the offical South African Tourism page here: southafrica.net