It's quite hard to believe that 2016 is drawing to a close. This year has been a very exciting one for me and I thought I'd put together a bit of a run-down of what I got up to, if anything as a great memento for the future. I think it's really important to reflect on the year's achievements, who inspired me, what I was grateful to witness, and the friends and partnerships I made along the way. I have also shared a favourite image captured during the month, which is referenced within the text.
January
My 2016 started in one of the best ways imaginable, in the Tasmanian wilderness. I was fortunate to be able to photograph the Pool of Siloam in the Walls of Jerusalem National Park at sunrise on new years day and it was truly a spectacular start to the year. On this trip to the Walls of Jerusalem I was able to meet and photograph alongside one of my favourite photographers, Nick Monk. Only a few weeks later the region around the Walls of Jerusalem was subjected to horrible bushfires. This unfortunately impacted my next trip to Tasmania, which was later in January. I met up with the talented photographers Dylan Toh, Tim Wrate and Francois Fourie with the intention of returning to the Western Arthurs. Unfortunately due to the bushfire crisis in Tasmania, the access route to the Arthurs was closed and we had to make a backup plan. We ended up heading into the Labyrinth where I captured my image "Geryon Awakens", which ended up being shortlisted in the Australian Geographic Nature Photographer of the Year Competition.
February
The second month of the year was the quietest and saw me complete my first Camera Club judging at Pittwater Camera club. I also went on a canyoning trip in the Blue Mountains with Jake Anderson and others where we captured some amazing light beams. I will be running Canyoning workshops in the Blue Mountains in 2017, look out for them! I also shot a memorable sunrise shoot at a sea cave in the Central Coast with the extremely talented Daniel Tran.
April
This was a very memorable month as I took a leap of faith and had my last day of work in the corporate world on the 19th of April, becoming self employed from that point onwards. I conducted my first photography workshop in late April with Phil Norman, which was held down in Narooma. It was an amazing experience taking people down to one of my favourite places and helping them improve their photography.
May
May saw me take my fourth trip to Tasmania to complete the Overland Track with the Tasmanian Walking Company. My third time doing the hike left me wanting to do it again, it is such a fantastic experience. The highlight was the first day when we walked through fresh snowfall over Cradle Cirque. During my time in Tasmania I also attended the opening of the Tasmanian Landscape and Nature Photography awards at Wild Island Gallery where I was completely surprised to win third and first place in the 'Wild Landscapes' category. I also found out in May that I won the landscape category of Capture Magazine Emerging Photographers 2016 competition. I delivered presentations to Northside Creative Camera Club and Hornsby Heights Camera Club on Award Winning Photography. At the end of May I held the first Shoot for the Stars Astrophotography Workshop down in Narooma alongside Jay Evans. It was an incredibly fun workshop, and our participants had a great time. We were able to get out and shoot the stars each night and got some great conditions. The 2017 Narooma workshop will be an absolute blast.
June
This month saw my image 'Crescent Moon over Mount Banks' on the cover of Australian Photography Magazine, and my milky way image of Barrenjoey lighthouse on the cover of Pittwater Life Magazine. I also presented to the Dee Why Camera Club on Seascapes. June also saw me spend a week in Vanuatu with some extremely talented photographers for Tourism Vanuatu. It was great to help promote this island nation to my Instagram audience and show the incredible beauty present there. I'll never forget the blue holes, sandy beaches, and plantation after plantation of coconut palms. However the highlights of the trip, if not the whole year, was photographing on the rim of an active volcano on Tanna Island, both terrifying and exhilarating at the same time!
July
In July I became an Accredited Professional Photographer with the Australian Institute of Professional Photography (AIPP). I took a memorable trip with friends to South Rams Head, in Kosciuszko National Park. We camped on the snow near the summit of the mountain and had a great time photographing the winter wonderland up there. I returned to Pittwater Camera club to present on Seascapes, and I led a takeover on the NiSi Australia Instagram account. In mid-July snow fell at the Sugarpine plantation at Laurel Hill in NSW, so I went down to photograph it. At the end of July I travelled with my girlfriend Jen to Canada, where we spent the remaining days of the month in Vancouver. I managed to do some hiking in the mountains, photograph Orcas on a whale watching cruise, capture cityscape images of the Vancouver skyline, and explore Bowen Island over a weekend stay.
August
August saw us travel to the Rocky Mountains for several days where I was able to photograph around Banff, Jasper, and the Icefields Parkway. The Rocky Mountains were spectacular and the drive along the Icefields Parkway will certainly be one to remember! After returning home from Canada I travelled to Adelaide for the opening of the Australian Geographic Nature Photographer of the Year exhibition at the South Australian Museum. It was fantastic to see my work in print, and spending the time to wander through the whole exhibition was very inspiring. It was also awesome to catch up with some photographers I have been wanting to meet for ages like Joel Durbridge, Ben Goode and Warren Keelan. My first entry into the Australian Professional Photography Awards (APPAs) occured in August, where I scored a Silver with Distinction and several Silver awards.
September
At the start of September Jay Evans and I hosted the Shoot for the Stars Capertee astrophotography workshop. I will never forget this workshop as the conditions miraculously cleared on the second night after torrential rain on the first night. The excitement on the participants faces as they realised they could go out and shoot was priceless. I am very much looking forward to running this workshop in 2017. The day after returning from the Capertee workshop I was off to Alice Springs in the Northern Territory to complete the Larapinta Trail with Trek Larapinta. This walk exceeded my expectations by a huge margin, and I hope to write more about it next year. The outback may appear to be a dry, desolate place however there is so much beauty in the mountains there, and the light during magic hours was like nothing I have experienced before. After returning from the Larapinta I headed to the Budawangs with my friend Ben Norsa, where we met up with Jake Anderson. I had been wanting to explore this park for several years and it was awesome to be able to finally have the chance to visit. I was able to capture a shot that I had always wanted to take, one of Mount Mooryan. Both Ben and Jake were featured in the November-December issue of Australian Geographic Magazine, where Ben had the cover shot and Jake photographed for a story both for the Budawangs.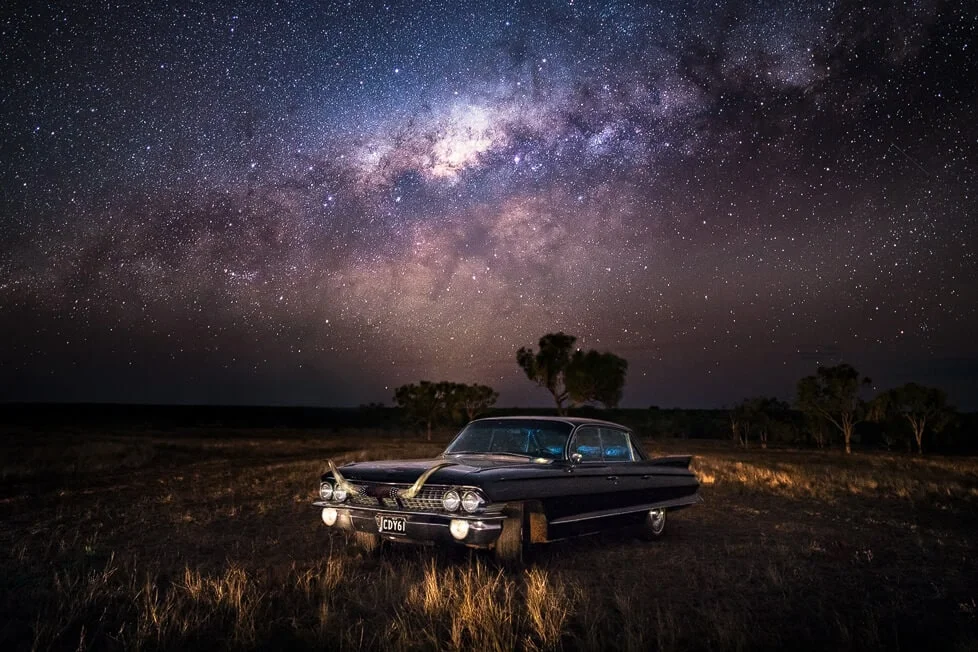 October
In early October I was given an amazing opportunity of doing a presentation at the Australian Museum in conjunction with Australian Geographic. My talk was entitled 'Nature as You've Never Seen It' where I discussed how I was able to capture the images which were exhibited in the Australian Geographic Nature Photographer of the Year exhibition. The talk was sold out and it was fantastic to be able to share my experiences with such a large audience. October also saw me run a photowalk in the Sydney CBD with NiSi Filters in conjunction with Georges Cameras. It was a great day where over 100 people attended, and I presented about NiSi Filters and did demonstrations in Hyde Park and Mrs Macquaries Chair. Later in October I travelled to Townsville to run an astrophotography workshop in Charters Towers, and photographed around the Townsville area. Trips to Magnetic Island and Hinchinbrook Island were the highlights. In October I also completed the move from my website from the Koken platform to WordPress. It was a big job and took a lot of my time, however the effort was very much worth it as I am now able to sell prints, workshops, and other products from my website. The blogging platform is now vastly better, and you will be seeing many more blogs from me in 2017.
November
In early November I was guest speaker at the Focus Awards Night, and annual event run by the Focus Photographers group. It was a real honour to speak about my photography journey in front of such a large audience. It was also a real privilege to sit next to and chat with Ken Duncan, who was a guest at the night, and one of my photographic idols. In mid November I was able to have a weekend away with my Sydney family at Hyams Beach in Jervis Bay. It was great to get away and recharge the batteries. At the end of November I was very fortunate to travel to South Africa on a trip with South African Tourism. We were able to spend several nights at Cape Town, Johannesburg, and a safari lodge called Madikwe near the Botswana border. The South African landscape and wildlife was absolutely captivating, and I had an amazing experience overall.
December
In early December I went on a 'NiSi Roadtrip' from Sydney to Byron Bay and return, where we photographed with NiSi Filters and held some meet-ups along the way. It was great to travel with fellow ambassadors Daniel Tran and Matt Donovan, and spend some time with our trip videographer Rob Mulally. We ended up getting some great images along the way and had heaps of fun and not much sleep in the process. A few days after returning from the roadtrip I departed to Tasmania for my 5th trip of the year. I spent four incredible days on the Maria Island walk. The island is absolutely beautiful and is a refuge for wildlife. I will be posting more from my trip to the island, including a blog post, in the new year. My final trip for the year was home to the Barossa Valley for Christmas. I hadn't been home for Christmas for two years and it was great to be able to spend this time with my family. Christmas Day was a stifling 41°C however I did manage to get out for a shoot at one of my all time favourite locations later in the afternoon after it cooled off.
So that was my year. It ended quite different to how I had expected. Somehow I managed to fit in 39 flights travelling over 87,000 kilometers in the air, with quite a lot of kilometres also on the road, and many on foot too! Picking an overall highlight is very hard as I had many experiences which I now look back on as treasured memories. If I could say one experience that exceeds all others is finally seeing my girlfriend Jen after weeks away from home. While you are away you really do realise what the most important things are!
What will 2017 bring? I have a lot of plans including many awesome workshops, which I have poured a lot of my 'spare' time into over the course of the year. Our Shoot for the Stars astrophotography workshops promise offer some of the most unique opportunities to photograph the stars in Australia, the Blue Mountains Canyoning workshops are also a unique opportunity as well. I have some more travel planned with trips to Tasmania being at the front of my mind (as always). I wish you and your family a very happy and successful 2017. I want to thank you for your support over this year, and look forward to 2017 with much excitement and anticipation.