Venus Optics have been releasing some very interesting and unique lenses under their Laowa brand. Their 12mm f/2.8 Zero-D has garnered a lot of interest given its small size, wide aperture, and wide focal length. The Laowa 15mm f/2 FE Zero-D is another such lens on this list. I was lucky enough to have Laowa Australia lend me a pre-production Laowa 15mm f/2 FE Zero-D lens to test and review for several weeks.
I am not a traditional gear review photographer and feel much more comfortable providing my point of view from use in the field. I really do think that nothing beats real world use! Below you will find my initial impressions of the lens. Please note that this is a pre-production version of the lens and as such the production version should (hopefully) correct the issues that have been raised.
Introduction
The Venus Optics Laowa 15mm f/2 lens is a full frame native Sony E mount lens. This means if you shoot Canon, Nikon or other you're out of luck. However given Sony's fledgling FE lens line-up a native super-fast wide angle prime is certainly a welcome addition. Being wide and fast this lens will immediately get the attention of night photographers. Opening the aperture very wide to let as much light as possible to reach the sensor is critical to having well exposed night images at the lowest possible ISO values. This lens promises to be quite useful in that department.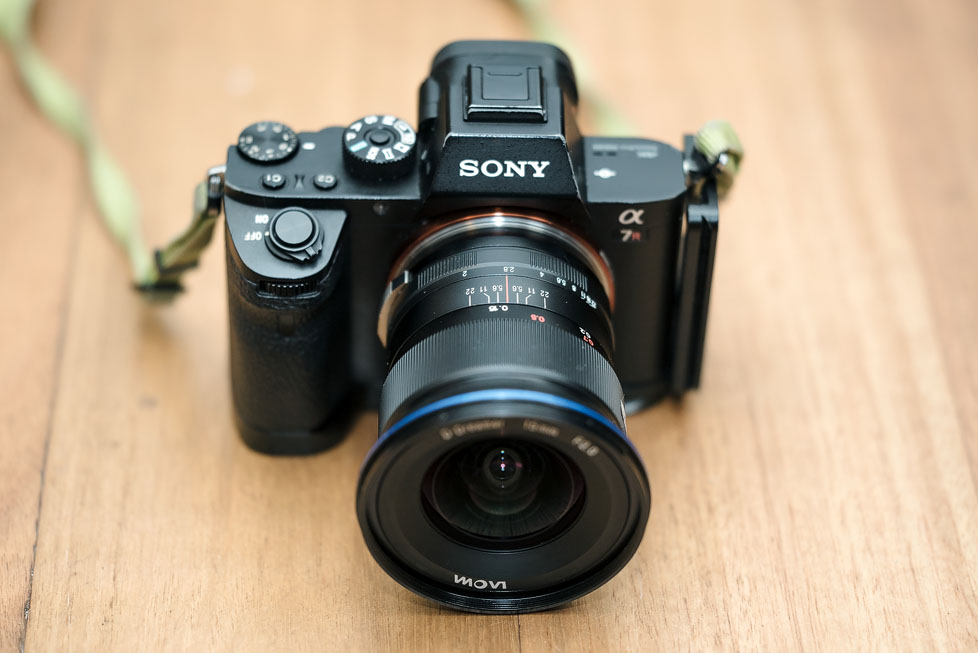 Build Quality
This lens has an all metal construction and feels like it is built like a tank. The lens is fully manual and has a manual focus ring with guide and also a de-clickable manual aperture ring. There is no electronic chip in the lens and therefore images captured with the lens will be greeted with an aperture value of "F–" when reviewing on the camera. In general practice having this value present in the EXIF data would be nice but not essential, however it would have made it easier to have record of the aperture values when putting together this article. The lens does not have image stabilisation and is internally focusing, meaning that the lens does not extend from the front when focusing.
Focus Ring: The metal focus ring glides extremely smoothly and with a large throw is one of the most pleasing manual focus rings I have ever used. It has a focus guide engraved into the metal, with the metric guide painted in white and beginning at 0.15m with markings for 0.2m, 0.5m, 1m and infinity. The focus measurements are also engraved for imperial measurements, with the feet guide painted in red. A guide is also included for the hyperfocal distance, with markings for f/5.6, f/11, and f/22 engraved on the lens barrel. This enables the visualisation of the depth of field given a particular aperture and focus distance.
Aperture Ring: The aperture ring is also made of metal and there is a satisfying click as the ring is moved between the different f-stops. Only full f-stops are marked on the lens, however half or third stops could be selected via estimation.
There is a large metal switch which when moved upwards 'de-clicks' the aperture and allows the aperture ring to move very smoothly. On occasion I have found the click switch to become stuck, with a short jiggle of the aperture ring freeing it up. I expect little niggles like these to be corrected by the time the production lenses are released.
Lens Hood: The lens comes with an strong and durable all-metal lens hood, which provides a more premium feel. The pre-production version I was using had a slight misalignment with the hood, meaning a small fraction of the hood was visible in the frame even when installed correctly. This is another such issue that should be corrected for the production version. I used the lens without the hood most of the time I was using it as I find them painful to constantly remove when using filters. Did I say filters?
Filter Thread: Thankfully the lens hood is removable, allowing the front thread of the lens to take screw-on filters with 72mm diameter. I am not aware of any ultra-wide full frame lens with an aperture of f/2.8 or wider, that can take screw on filters. This is definitely a major advantage of this lens. During my time with the lens I was able to screw on NiSi Natural Night light pollution filters for night photography and my NiSi 100mm filter kit for long exposure photography. The ability to quickly put on filters was a huge advantage. The relatively small 72mm filter size is also a welcome benefit, as filters of this size are usually significantly cheaper and are easier to manage. I also found it fantastic to have the f/2 aperture when setting up my NiSi 15 stop ND Filter on the lens. The wide aperture allowed enough light in to accurately compose and focus the scene without having to take off the filter.
Size and Weight: Considering the fast ultra-wide nature of this lens it certainly is tiny, with an 82mm lens length and a 72mm diameter. The all-metal construction does add considerably to the weight, leaving it surprisingly heavy at 513g (Laowa quotes a weight of 500g). Having said that I would much rather a compact well built lens with a bit of weight, than a large lightweight but cumbersome lens with questionable durability. I love the fact that the lens takes up very little space in my bag.
Optical Performance
Sharpness: I have been very impressed with the sharpness of this lens. Obviously depth of field is quite limited at f/2, however the lens is sharp corner to corner from f/4 onwards, and is very sharp at f/8-f/11. This is quite evident if you have focus peaking turned on in the camera, with the focus point moving through the scene predictably as you turn the focus ring. I enjoyed being able to use focus peaking to verify the stars were in focus, which I have noticed is not possible with a lot of softer lenses that I have used.
Distortion: The lens is is referred to as "Zero-D", meaning that it has zero distortion. Unbelievably this claim is fairly accurate, although in some situations I did see a very slight curvature of the horizon when the lens was pointing upwards or downwards. This level of distortion was so minimal I decided to not correct it in Lightroom. Having extremely low distortion will make this lens a very attractive proposition for architectural photography.
Minimum Focus Distance: This lens has a minimum focus distance of 15cm which in practice is very close. In fact it is so close that depending on the sun angle the lens itself may shade your subject. Since the lens has a wide 110° angle of view, creative opportunities abound, allowing for sharp close-up subjects against a wide out of focus background. I can see this also being very effective for use in video as well, especially with the de-clicked aperture setting.
Bokeh: Being a landscape photographer I generally work to get maximum depth of field in the scenes that I shoot. Therefore assessing the quality of the bokeh is something I'm unfamiliar with. Having said that the out of focus areas are rendered pleasingly smooth.
Flaring and sun star: The copy I reviewed showed some pretty serious flaring at f/2 when shooting into the sun, however this cleared up markedly at f/2.8 and was controlled much better from f/4 onwards. The sun-stars have 14 points from the 7 bladed aperture of the lens, and look fine to me. Certainly better than some other ultra-wide lenses that I have used.
Vignetting: As one may expect there is some vignetting at f/2 which improves by f/4 and is barely noticeable at f/5.6. Shooting with Sony cameras I barely get concerned about vignetting as the high dynamic range of the sensor allows the corners of the frame to be lightened without much of a drama. I found that to be the case with this lens and a lens vignette adjustment of +30 corrected the vignette in Lightroom on an f/2 exposure. If vignetting is an issue for you then it's worth noting this, however it is hard to find lenses as fast as this that don't exhibit some form of vignette wide open. Refer to the before and after image below to see the difference in vignette between f/2 and f/2.8.
Coma: There is some coma present in the pre-production copy that I have been using. It is quite noticeable at f/2 when viewing at 100% and is controlled reasonably well at f/2.8. By f/4 the coma is barely visible however this is not as useful as an aperture for astrophotographers. Whilst the presence of coma is a little more than I have seen in some other popular astrophotography lenses, I do feel that it is a small compromise for the other huge benefits of this lens. Hopefully the production versions will have even better coma control. Below you can find a unedited 100% crop comparison between f/2 and f/2.8. The crop was taken from the larger milky way image below.
Comparing an image of the galactic core of the milky way taken at f/2 and then at f/2.8, useful to visualise vignetting
[ultimate_spacer height="15″]
Comparing a 100% crop from the top right hand corner of the above images at both f/2 and f/2.8, useful to show the difference in coma between the two apertures
[ultimate_spacer height="15″]
General Observations
The various unique features of this lens leave it as one of the most fun lenses I've ever used. It is compact, easy to use, built extremely well and performs well optically. It will be interesting to see what improvements will be made to the lens when the production copies are released.
Pros
Has a 72mm filter thread accepting standard circular filters
Very low distortion
Fast f/2 wide aperture
Very close minimum focus distance of 15cm
Attractive 14 point sun-stars
De-clickable aperture
Small and compact
All-metal, very high build quality
Native Sony FE mount
Cons
Some coma at f/2, which improves at f/2.8
Strong flaring when lens is wide open
No electronic communication with the camera
Final Thoughts
I have enjoyed using this lens so much that I have asked Laowa Australia for my own copy of the lens when they are released into the market. At this point they tell me that availability will be in late July. Pricing is still to be confirmed.
I would like to thank Laowa Australia for lending me one of the only copies of this lens currently available, and for such a long period of time. If you have any questions about the lens feel free to ask them in the comments!
Cheers,
Luke